I've talked a lot about how crazy the beauty industry is. But, did you know that Europe has banned or restricted over 13,000 harmful chemicals from cosmetics? And guess how many the US has banned or restricted? The US has only banned or restricted 11 harmful ingredients from being used in our cosmetics! Does that sound ridiculous to you or what? That sounds extremely ridiculous to me! (source)
So, what's the solution? Well, we have to be very vigilant about what we use on our bodies, from our hairspray to our toenail polish. Something I use that helps me make good choices about what beauty products to buy, is the Think Dirty app. You can scan or search for beauty products and it will tell you how harmful the ingredients are in the product and why. It's so simple to use and it's free. It helps me so much when I'm shopping because I can just scan the product I'm looking at and make an informed decision about whether or not I want to buy it.
Other than buying safe beauty products, I like to make my own beauty products when I can. And a lot of times I find that the things I make actually work better than the store bought products. One of my favorite things is my DIY all-natural hairspray. It keeps the fly-aways tame and boosts your natural color. Using tea in my hairspray recipe naturally boosts color and can help your hair and scalp in many other ways. Before you make your hairspray, decide on which type of tea you would like to use, based on your hair color and the healing properties of the tea.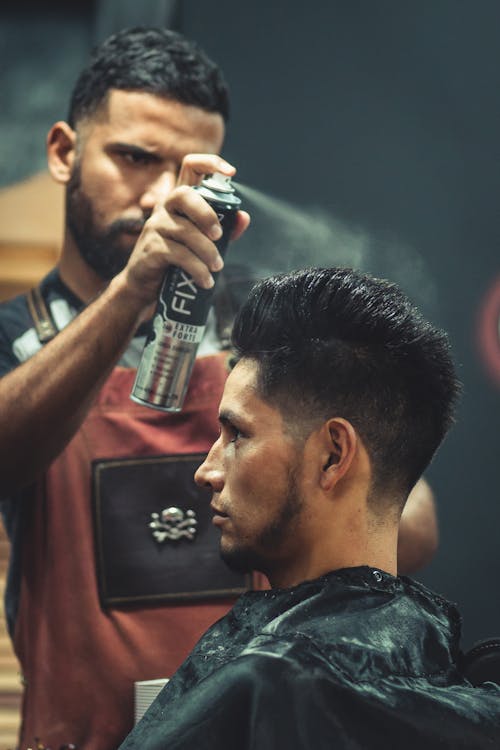 Choose Your Tea
For Dark Hair:
Black tea reduces oily hair, deepens dark colors and minimizes grays. Caffeinated teas block the hormone responsible for hair loss. So any caffeinated tea, like black tea or green tea, will promote hair growth and help with hair loss.
Hibiscus tea thickens hair, soothes dry scalp and adds shine. It also helps detangle hair.
For Light Hair:
Chamomile tea brings out blonde highlights, soothes itchy scalp and is anti-inflammatory. It also conditions hair and encourages hair growth.
Green tea prevents hair loss because it's caffeinated, but it doesn't darken your hair like black tea will. It also fights dandruff and itchy scalp, while softening and strengthening your hair.
For Red Hair:
Rooibos tea is the perfect color for redheads! It brightens the rich red highlights with its red coloring. This is the tea I use for my red highlighted hair.
Hibiscus tea or green tea can also be used on redheads if you like the benefits that these teas offer. 
DIY Chemical- Free Hairspray
Ingredients:
Boil your filtered water and place it in a mug. Add the tea of your choice, either in a tea bag or in a tea strainer or infuser. Let the tea seep for 5-10 minutes. While the tea is still warm, add your sugar and mix until it dissolves. Set the mixture aside to cool. Once it has cooled, add your 100% pure aloe vera, vanilla extract and lavender essential oil. Then transfer the mixture into your glass spray bottle. This recipe left me with a little more than my glass bottle could hold, so I simply store the extra in a sealable glass jar until I need more. Voila! You've got an all-natural, chemical-free hairspray.
To use: Shake the bottle before use, as things will settle. Spray a few light sprays over your fly-aways or where you need some extra hold. This is a medium to light hold hairspray, so don't expect it to hold tight ringlets for 8 hours. I use my hairspray daily for fly-aways and up-dos and it works great! This hairspray will not permanently color hair. It will bring out the natural color, but will not change the color. This recipe is good for up to 6 months. Replace with a new batch if you haven't used it all up by that time.
A Little About The Ingredients:
The sugar is what gives the hairspray its hold. If you feel you need a little extra hold, you can add more sugar. But I've found that this is just the right amount for me.
Aloe vera is very soothing. It promotes hair growth, soothes the scalp and dandruff, maintains your scalp's pH level and repairs damaged hair.
Vanilla extract smells amazing and helps preserve the hairspray, without drying out your hair.
Lavender essential oil balances the natural oils in your hair, soothes the scalp with it's anti-inflammatory properties and keeps hair soft and shiny.
I love using DIY all-natural recipes for my beauty products. It feels good knowing I'm using natural, healing ingredients on my body. And it's usually way cheaper! So, enjoy this recipe and remember to stay natural!
What natural recipes do you use? What's your favorite DIY all-natural recipe?